Importante: l'evento è gratuito ma è obbligatoria la registrazione qui su EventBrite (per ragioni di sicurezza).
Il 
Machine Learning & Data Science Meetup
 di Roma invita tutti al suo Meetup di Marzo, che si terrà il 14 Marzo alle 19:00 negli spazi di LUISS EnLabs (Roma Termini). Un Meetup imperdibile (ma siamo di parte e lo ammettiamo) per chi vuole esplorare insieme a noi le ultime frontiere del deep learning e della robotica!


Apriamo con Raffaello Bonghi (NTT Data) che ci parlerà della sua esperienza in campo robotico - ad esempio di come ha costruito un robot semovente che interagisce con l'ambiente, in un progetto dal nome già ambiziosissimo: Powerful Autonomous eNTity High-End Robot (Panther)! Reduce dalla NVIDIA's GPU Technology Conference di Tokyo ed in lizza per la Jetson's Developer Challenge: non vorreste perdere l'occasione di vedere Panther dal vivo, vero? Secondo noi poi ve ne pentite.
Proseguiamo la serata con Alberto Massidda (Sourcesense), che ci anticiperà un pezzo della sua presentazione per il Codemotion Roma su come il deep learning ha rivoluzionato la traduzione automatica con la "neural machine translation". Volete sapere cosa si nasconde dietro Google Translate? Non potete non partecipare!
Per concludere, come sempre news, open mic (leggete sotto per partecipare!), birra, e tanto, tanto networking!
Importante (open mic): L'open mic permette a tutti i partecipanti di parlare di iniziative personali, progetti, offerte di lavoro ed altro. Fateci sapere da subito se volete parlare per organizzarci con i tempi - per annunci di tipo commerciale, chiediamo un (piccolissimo) contributo all'organizzazione del Meetup (da reinvestire interamente in cibo/gadget/inviti di speaker) in cambio della promozione sui nostri canali.
Agenda ---------- 19:00 - 19:15: 
Registrazione
19:15 - 19:45: 
How I built my robot with ROS and deep learning
(Raffaello Bonghi, NTT Data) 19:45 - 20:15: 
Neural Machine Translation
 (Alberto Massidda, Sourcesense) 20:15 - 21:00: Open mic, news & networking (con birra)! Vi lasciamo con il video di Panther alla Nvidia's GTC 2018 e vi ricordiamo che già da adesso potete votarlo per la 
Jetson's Developer Challenge
: 
Panther at GTC17EU [YouTube]
.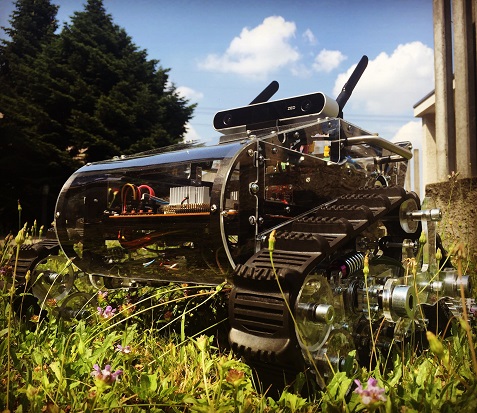 ---
Per rimanere aggiornati sui nostri eventi dei prossimi mesi, potete diventare soci (gratuitamente) dell'
Italian Association for Machine Learning
, oppure seguirci su Meetup, Facebook o LinkedIn:
Italian Association for Machine Learning: 
http://www.iaml.it/
Seguici su Meetup: 
https://www.meetup.com/it-IT/Machine-Learning-Data-Science-Meetup/
Seguici su Facebook: 
https://www.facebook.com/machinelearningitalia/
Seguici su Facebook (gruppo privato): 
https://www.facebook.com/groups/datascienceroma/
Seguici su LinkedIn: 
https://www.linkedin.com/company/iaml/
---
Questo Meetup è anche parte del network #AperiTech, un'iniziativa di Codemotion powered by LUISS ENLABS Per restare aggiornato sui meetup di Machine Learning/Data Science Meetup e su tutti gli altri #AperiTech:
Telegram #AperiTech
t.me/aperitech
Calendario del Developer
bit.ly/devcalendar
Codemotion Tech Community
bit.ly/CodemotionTC